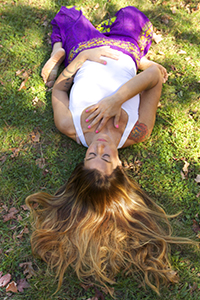 Chantal Vice
Inspired by her own teachers, Chantal credits her devotion to Sri Dharma Mittra, her creativity to Dana Flynn, and her Bhakti to Ram Dass and Krishna Dass. A lover of mantra, mudra and chanting, Chantal weaves these ancient practices into her local yoga classes in an invitation to look inside your heart, where your-Self and God dwell in the center of your chest. Chantal believes that the most important role of a teacher is to inspire and encourage students to be more themselves. Chantal is a devoted student, practitioner and teacher and is committed to spreading the loving message that is Yoga.
---
Kristen Monge
Kristen Monge began practicing yoga in 1998 as a way to connect her love of movement with meditation. After exploring several styles of yoga, she completed a 200+ hour teacher certification for Vinyasa Flow in San Diego in 2006. She likes the way the body builds heat naturally through sun salutations, creative sequencing, and the range of postures that Vinyasa offers. The importance of the breath and listening to one's own inner wisdom is at the heart of her practice.  Following her teacher certification program, she earned a Pre-Natal Yoga teacher certification in 2007. Now teaching yoga while raising 3 kids, she sees the importance of balance and strives to help people stay centered through conscious breathing while remaining limber and strong through fun, safe classes which integrate music, mindfulness, and yoga philosophy. Kristen attends numerous yoga workshops with a variety of teachers and feels that remaining a student first allows her to share her journey with others where joy, truthfulness, and health are at the center.
---
David Bonessi
Finding yoga for Dave was like finding his way home. Yoga and all of it's eight limbs have given Dave something truly priceless; A practice physically mentally and beyond to form a person into the absolute greatest version of his/her self. Somehow this all seemed oddly familiar, as if he had done this before. Dave can even look back as far as early childhood on memories of things that he had done or states of consciousness and see the similarities to what he am practicing now. Whatever the truth may be, Dave is taking that as a sign at the least that he is doing what he is placed on this Earth to do. Yoga has given Dave more than he ever could have asked for out of life, and it is his aim, privilege, and joy to share it… Namaste
---
Marisa Gabrielli
Marisa began doing yoga in a gym setting, back in 1998. She kept craving more knowledge about the practice and I loved the way it made her feel. In the following years, Marisa practiced at many great studios in Manhattan and tried different types of yoga including Ishta Yoga at Alan Finger's Be Yoga Studio, Om Yoga Center owned and directed by Cyndi Lee and Laughing Lotus owned and directed by Dana Flynn and Jasmine Tarkeshi. Years later, Marisa had twins, left her fashion career in NYC and decided to become a yoga teacher. Marisa did her training and became a 200 hr. Certified Vinyassa Yoga Instructor.